Core facilities
MCTP - Metabolomics Core Technology Platform
The Metabolomics Core Technology Platform offers a broad range of qualitative and quantitative metabolite analyses. We are located at the Centre for Organismal Studies (COS) Heidelberg and are member of the HMLS Core Facility program.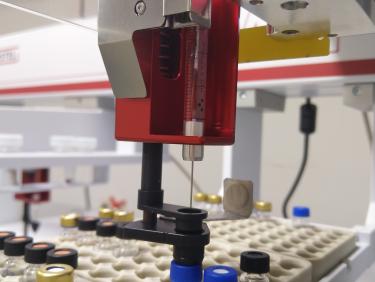 The MCTP provides analytical services for untargeted and targeted metabolite analyses.
Untargeted analyses can be performed for comprehensive metabolite fingerprinting by LC-MS/MS leading to a spectrum of mainly primary metabolites (e.g. members of Citric Acid Cycle).
The evaluation of accomplished projects since the start of MCTP reveals a significant demand for targeted analyses of customer-defined metabolites.
Therefore the MCTP performs targeted metabolite profiling and single compound analysis. This allows us to routinely analyze and quantify the following classes of compounds:

Inorganic ions (Anions and Cations)
Carbohydrates / Sugars
Citrate cycle compounds (Dicarboxylic organic acids, e.g. Malate, Fumarate, Citrate)
a-Ketoacids (e.g. Glyoxylate, Pyruvate, Ketoglutarate)
Amino acids
Polyamines
Nucleotides (e.g. ADP, ATP, GTP, CTP, UTP)
Thiols (Glutathione - GSH/GSSG - and Cysteine)
Polyphenols (e.g. Phytoestrogenes, Flavonols)
A detailed list of all compounds which have been measured and quantified so far is available upon request.
For targeted analysis of additional metabolites please contact the MCTP.
Our service includes extraction, separation and detection of metabolites and basic bio-informatics of your data.

The so far analyzed sample matrices include metabolite extracts of
Prokaryotes
Yeast
Cell culture (Drosophila and Human)
Human, animal and plant tissues
Human body fluids and cell culture/bacterial supernatants
Measurements of further matrices can be established upon request.

 UPLC system coupled to Vion IMS-QTof MS (Waters) for unbiased comparative analyses
 UPLC system coupled to QTrap6500+ MS/MS (Sciex) for targeted, ultrasensitive analyses and Metabolomics kits (Biocrates)
GC-MS system (Shimadzu) for semi-quantitative, comparative studies of primary metabolism
HPLC (Waters) and Ion-Chromatography (Dionex/Thermo) systems equipped with fluorescence, UV,  conductivity and pulsed amperometric detectors for targeted analyses
UPLC system coupled to PDA-, FLR- and QDA - detectors (Waters) for targeted analyses

NEWS: We are happy to announce that the MCTP was able to acquire a new, second UPLC (Waters) QTrap6500+ (Sciex) system in February 2020 which has been installed now. We are going to implement new state-of-the-art analyses on this high-end system and will keep you updated on new services.
All researchers of the University of Heidelberg, the Heidelberg and Mannheim University Hospital, DKFZ, MPImF and EMBL are welcome to request help or place orders for metabolite analyses.
External projects can be accepted upon discussion.
Before sample submission please contact Dr. Gernot Poschet to discuss your project in detail or request a project discussion via our online booking system.
Submission of a Service Request is mandatory before submission of samples!
To create a service request, please use our easy-to-use online booking system.
The costs of core facility services – system usage and consumables - have to be charged directly to the users. For detailed prices of the different analyses please contact the MCTP.
Prices can also be seen upon login to the online booking system.
Please read carefully the "General guideline for metabolite analyses" with specified requirements for metabolite analyses.
For more general information on the MTCP's services as well as users' rights and duties see our "End-user license agreement". New customers are requested to bring a signed copy of the EULA when submitting the first sample set.
In cooperation with Waters Germany  the MCTP hosts and organizes several UPLC training and maintainance courses per year. For further details and registration please visit the Waters training course webpage:
 The Metabolomics Core Technology Platform recently contributed to the following articles:
Benjamin D. Weger, Meltem Weger, Benjamin Görling, Andrea Schink, Cedric Gobet, Celine Keime, Gernot Poschet, Bernard Jost, Nils Krone, Rüdiger Hell, Frederic Gachon, Burkhard Luy, Thomas Dickmeis (2016).
Extensive Regulation of Diurnal Transcription and Metabolism by Glucocorticoids . Plos Genetics. DOI:10.1371/journal.pgen.1006512
Yiling Yang, Abiola M. Pollard, Carolin Höfler, Gernot Poschet, Markus Wirtz, Rüdiger Hell and Victor Sourjik (2015).
Relation between chemotaxis and consumption of amino acids in bacteria . Molecular Microbiology 96 (6): 1272-1282.
Chiara Redaelli, Caroline Pilz, Anja Kunze, Knut Schaekel, Gernot Poschet, Bernd Arnold, Wolfgang Wick, Michael Platten (2014).
UV irradiation-mediated systemic immune suppression through AHR signaling . Journal of Neuroimmunology 275 (1-2): 128-129.
Lena Krüßel, Johannes Junemann, Markus Wirtz, Hannah Birke, Jeremy D. Thornton, Luke W. Browning, Gernot Poschet, Rüdiger Hell, Janneke Balk, Hans-Peter Braun and Tatjana M. Hildebrandt (2014).
The mitochondrial sulfur dioxygenase ETHYLMALONIC ENCEPHALOPATHY PROTEIN1 is required for amino acid catabolism during carbohydrate starvation and embryo development in Arabidopsis . Plant Phys 165: 92-104.
The Metabolomics Core Technology Platform is acknowledged in the following articles:
Eric Linster, Iwona Stephan, Willy V. Bienvenut, Jodi Maple-Grodem, Line M. Myklebust, Monika Huber, Michael Reichelt, Carsten Sticht, Simon Geir Moller, Thierry Meinnel, Thomas Arnesen, Carmela Giglione, Rüdiger Hell and Markus Wirtz (2015).
Downregulation of N-terminal acetylation triggers ABA-mediated drought responses in Arabidopsis . Nature Communications 6: 7640.
Stefan Timm, Maria Wittmiß, Sabine Gamlien, Ralph Ewald, Alexandra Florian, Marcus Frank, Markus Wirtz, Rüdiger Hell, Alisdair R. Fernie, and Hermann Bauwea (2015).
Mitochondrial Dihydrolipoyl Dehydrogenase Activity Shapes Photosynthesis and Photorespiration of Arabidopsis thaliana . Plant Cell 27: 1968-1984.
Constantinos Demetriades, Nikolaos Doumpas and Aurelio A. Teleman (2014).
Regulation of TORC1 in response to amino acid starvation via lysosomal recruitment of TSC2 . Cell 156 (4): 786-799.