COS Heidelberg buildings
Im Neuenheimer Feld 340/361
The new building "BoGa-Zentrum" (INF 361) in the main entrance area of the Botanical Garden was occupied in 2016. The first floor houses the administration of the garden (secretariat, technical and scientific management) as well as the social room, changing rooms, etc. for the gardeners in the basement. The upper floor is currently used mainly for providing climate chambers to the researchers of the nearby building INF 360.
The building INF 340 is the (historical) axis of the greenhouse complex, which was laid out in 1915. This includes the so-called "West Pavilion" in the direct vicinity of INF 360 and 361: this is where the entrance to the public greenhouses is situated, which also provides the meeting point for all public events of the garden. The West Pavilion houses in particular the janitor's office as well as archive and storage rooms. Via the Fern House (Hall A), the Great Tropical House (Hall B) and the Succulents' House (Hall C) it is connected to the East Pavilion. In addition to storage rooms, the offices of our head gardeners can be found here, as well as the apprentices' supervisors which will also move to INF361 at a later date.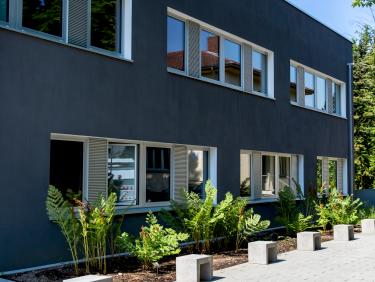 Address
Jean Maples
Botanischer Garten Univ. Heidelberg
Im Neuenheimer Feld 361
69120 Heidelberg
Directions
Coming from "Ernst-Walz-Brücke", turn left at the first intersection or go straight ahead when coming from the Neckargemünd direction, respectively. Access to the building by car is only possible by acquiring a parking ticket (subject to a fee) at the barrier. The number of parking spaces near INF 360 is rather limited but there's parking lots between "Im Neuenheimer Feld" and "Berliner Straße" as well as the parking garages of the Zoo and the clinic "Zentrum für Innere Medizin" on the other side of the campus ("Tiergartenstraße"). Both are in walking distance to the building (approx. 5-10 min). You can reach the Zoo garage by going through the campus area, exiting is free of charge for 10 min after getting the ticket. INF 360 is situated in the Botanical garden.
Public transportation
Use bus lines 20, 31 or 32 to bus stop "Botanischer Garten" or tramway lines 21 or 24 to stop "Jahnstraße" (about 10 min walk).

Im Neuenheimer Feld 340, "West Pavillion"