COS Heidelberg buildings
Im Neuenheimer Feld 360
The building "Im Neuenheimer Feld 360" the second largest COS building and is situated in the Botanical Garden. On three floors it accommodates several of our more plant science oriented research groups as well as the MCTP core facility. Furthermore the building holds a lecture hall and several practical rooms for teaching as well as the plant culture facilities with greenhouses and environmental chambers.
Originating in the Fifties, INF 360 first accommodated the "Botanical Institute" of the University and belonged to the "Heidelberg Institute for Plant science" (HIP) in the first decade of the new century. It was integrated into COS Heidelberg with HIP in 2011. In recent years it was extensively refurbished and remodelled, a process that is still ongoing.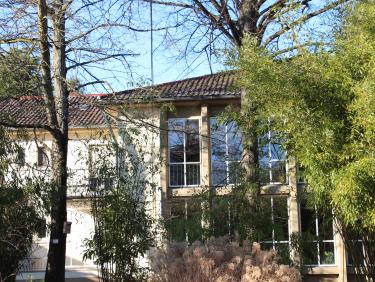 COS Heidelberg
-Sekretariat-
Im Neuenheimer Feld 360
69120 Heidelberg
Directions
Coming from "Ernst-Walz-Brücke", turn left at the first intersection or go straight ahead when coming from the Neckargemünd direction, respectively. Access to the building by car is only possible by acquiring a parking ticket (subject to a fee) at the barrier. The number of parking spaces near INF 360 is rather limited but there's parking lots between "Im Neuenheimer Feld" and "Berliner Straße" as well as the parking garages of the Zoo and the clinic "Zentrum für Innere Medizin" on the other side of the campus ("Tiergartenstraße"). Both are in walking distance to the building (approx. 5-10 min). You can reach the Zoo garage by going through the campus area, exiting is free of charge for 10 min after getting the ticket. INF 360 is situated in the Botanical garden.
Public transportation
Use bus lines 20, 31 or 32 to bus stop "Botanischer Garten" or tramway lines 21 or 24 to stop "Jahnstraße" (about 10 min walk).
The building is not easily wheelchair accessible.