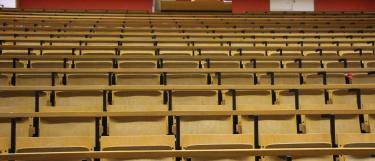 Teaching at COS Heidelberg

A practical experience
With 13 full professors and numerous other staff members involved in teaching, COS is the largest contributor to the teaching of the Faculty of Biosciences at Heidelberg University. From Bachelor's to Master's and PhD programs, COS follows the same philosophy in teaching that characterizes the research interests of the institute: To look at biology from basic topics such as molecular biology, biochemistry, and evolution, through the central principles of development and physiology, to the most complex topics such as neurobiology and ecology.
At all of these levels, the idea of organismic biology is emphasized to enable students to view the biological sciences as a complex web of closely interrelated fields that transcends the boundaries of individual model organisms or narrow areas of interest. All COS teaching aims at a strong research orientation, so that students should not only understand the concepts presented, but also learn how scientific ideas come about, ultimately being able to develop their own ideas and become active, highly motivated young scientists.

Bachelor study program
COS is involved in the bachelor's study programs in Biosciences and Biology 50% (with teaching option) and thus in the education of future research scientists and teachers. The focus in these undergraduate programs is on the fundamental principles and mechanisms of life, and for us, bringing together plant and animal content and integrating research projects into teaching are core concerns. Involving students in the development of research questions and experiments will serve to foster collaboration and discussion among students.

Master study program
Within the Master's program in Molecular Biosciences, two majors are organized and led by the COS (Developmental and Stem Cell Biology and Molecular and Applied Plant Sciences) and faculty from the COS are involved in two others (Neurosciences and Systems Biology). Here, the COS offers teaching programs for targeted expertise development with intensive hands-on training with rotations through numerous research groups. A research-oriented approach to teaching here combines a wide range of research projects both at the COS and at cooperation partners with interdisciplinarity through the possibility of combining modules from different majors and exchanges with international working groups.

Doctoral Studies
The Centre for Organismal Studies offers numerous attractive opportunities for PhD projects with an organismic, molecular biological, cell biological, developmental or evolutionary background through its diverse range of current and high-caliber research projects in the excellent Heidelberg environment. We offer state-of-the-art methodological platforms, from bioimaging to structural biology and functional genomics.
PhD projects are integrated into the Heidelberg Biosciences International Graduate School (HBIGS) program, which offers a structured curriculum tailored to individual needs, with participation in seminars, symposia and external internships. Key elements are also the promotion of interdisciplinary collaboration both on and off campus and the advice and support of the Thesis Advisory Committee (TAC).