Core facilities
Nikon Imaging Center
The Nikon Imaging Center (NIC@Uni-Heidelberg) is a core facility for light microscopy at the University of Heidelberg, developed in partnership with Nikon GmbH, Geschäftsbereich Mikroskopie and Nikon Instruments Europe B.V.
The Nikon Imaging Center (NIC @ Uni-Heidelberg) was inaugurated in 2005 and has since trained more than 1200 researchers. It is centrally located in the BioQuant on the Heidelberg life sciences campus. The NIC @ Uni-Heidelberg has a dedicated director, Dr. Ulrike Engel since 2005 and post-doctoral staff to support researchers in their experiments. It is part of two collaborative research centers (SFB 873 and SFB1324) and embedded in the Excellence Initiative of Heidelberg University.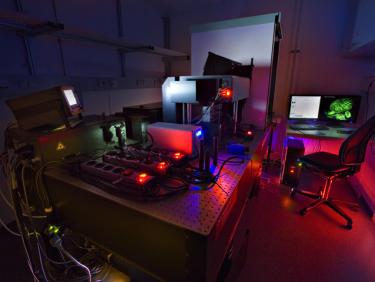 Promote innovation across a broad range of biological research fields by providing access to cutting edge microscopy and imaging equipment.
Provide training in both basic and advanced light microscopy techniques.
Serve as a learning hub for both scientists, as well as corporate partners and contributors.
Develop new microscope setups and imaging techniques in dialogue with our users.
Zum Vollbildmodus wechseln

Zum Vollbildmodus wechseln

Zum Vollbildmodus wechseln

Zum Vollbildmodus wechseln

Zum Vollbildmodus wechseln

Zum Vollbildmodus wechseln